Wrestlemania 32 Review
So here we are, Wrestlemania 32, 101,000 fans in attendance with a card that had the potential to do great things, did the WWE deliver? Read on for my thoughts on the biggest event in sports entertainment.
Now I didn't manage to catch the opening match in the pre-show featuring Ryback and Kalisto, not overly concerned either way as I just can't seem to care about either competitor. Ryback still garners a bit of a reaction from the crowd with his "feed, me, more" chants but just like myself the fans are meh towards The Big Guy.
The Total Divas v B.A.D & Blonde match wasn't the dumpster fire many people predicted, it wasn't rushed and had several decent spots with all of the women hitting their finishers, Lana didn't look out of place and got a good reaction when she entered the matchup, Eva Marie is still a heat magnet in anything she does and could be destined for big things if they turn her super heel similar to Vicki Guerrero. The ending saw Brie Bella win with the Yes Lock, Nikki Bella also came out and celebrated the victory with team Total Divas.
I also missed the match between The Usos and The Dudley Boys, only managing to catch the double table splashes by Jimmy and Jey.
Sin Cara v The Miz v Zack Ryder v Dolph Ziggler v Sami Zayn v Kevin Owens (c) - Intercontinental Championship Ladder Match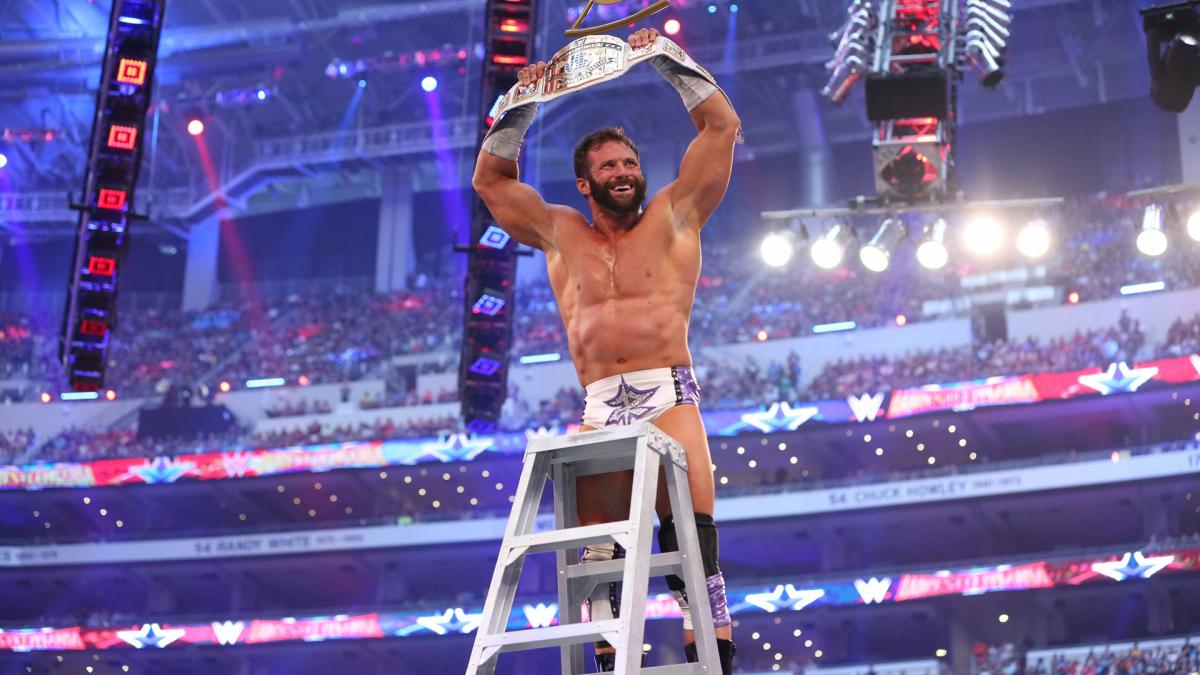 The official card kicked off with the ladder match for the Intercontinental Championship, perfect choice to get the crowd hot for the 4 or so hours to come. Zayn and Owens were the stars of the match, hitting several impressive spots, most notably a half nelson German suplex onto a ladder that left Owens looking like he was dead. So many other sick bumps occurred, Sin Cara getting knocked off the top of a ladder only to splash on Stardust who was down on a bridge ladder. Sin Cara also springboarded from a ladder off the top rope and flipped onto everyone on the outside.
The surprise came when Zack Ryder (woo, woo, woo) shoved the Miz off the ladder for the victory, the Bro also managed a killer spot where he dropped an elbow from the top of the ladder onto the Miz below. Good to see WWE rewarding Ryder after all these years but I can't see him as anything more than a paper champion for a week or two only for Owens to destroy him (maybe even as early as tomorrow's RAW).
3.8 out of 5
Chris Jericho v AJ Styles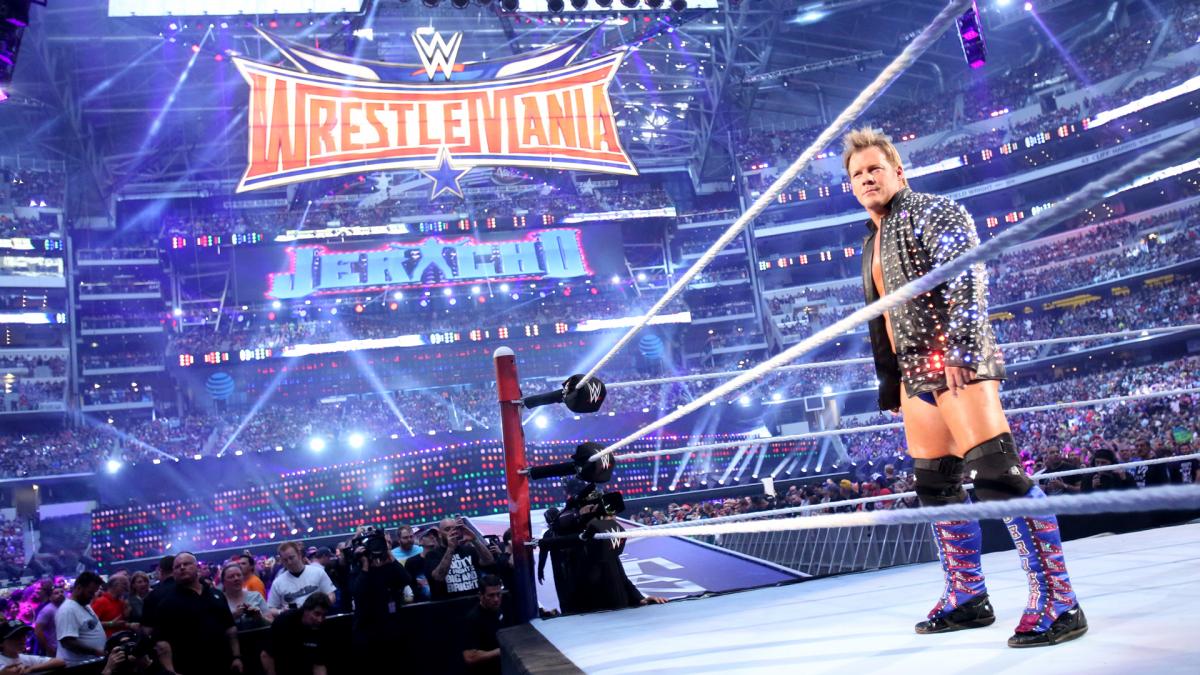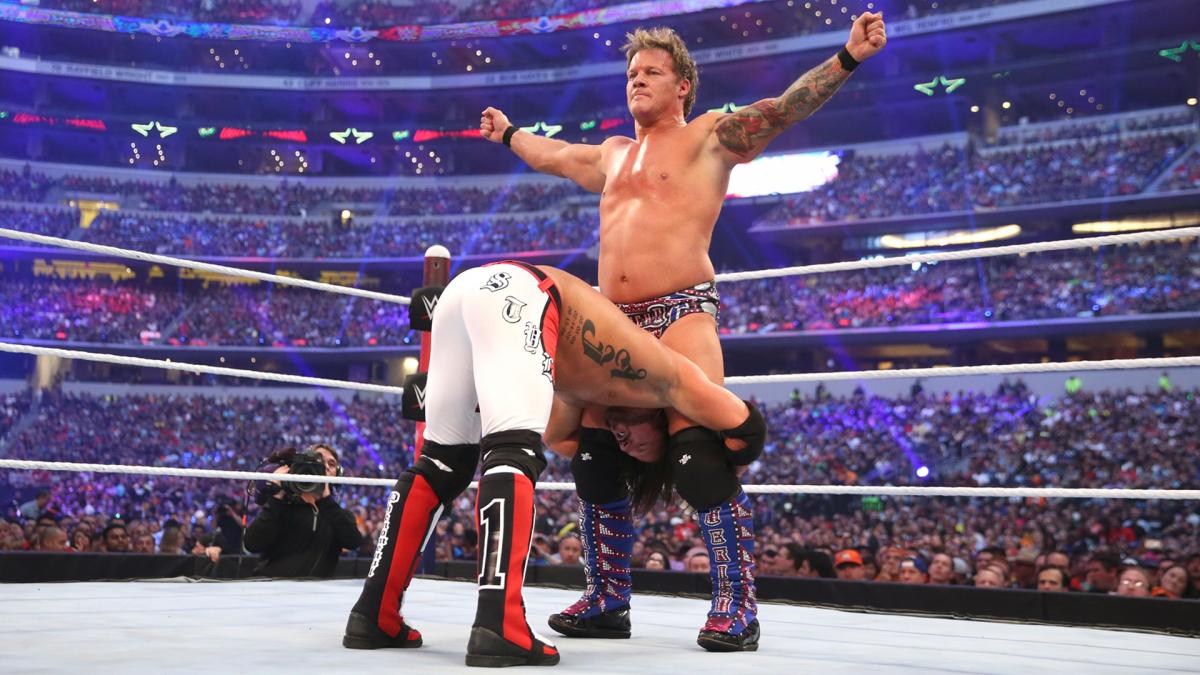 In what many thought would be the final match in the Y2AJ saga the result leads me to think otherwise. Jericho ended up getting the win when he countered a springboard forearm from Styles into a codebreaker. The match itself was patchy at times, a few botches and rigid counters took away from a solid 17 minutes of action and one brutal slingshot 450 by The Phenomenal One, seeing Styles lose to Jericho in his debut 'Mania while Fandango went over him clean at WM29 is a head scratcher.
3.5 out of 5
The League of Nations v The New Day (c)
The New Day made their entrance via a giant box of Booty-Os cereal (that set piece looked amazing by the way) dressed as Dragon Ball Z characters, these 3 guys have embraced their characters and now have the fans firmly popping for everything they do. The League of Nations out next, to mostly crickets and a few boos aimed at Sheamus' look. Side note, is this the biggest amount of outrageous hairstyles see in one match?
The match itself was fairly by the numbers, heels isolate Xavier and lay the beat down only for the hot tag to happen and the faces clear the ring. Kingston and his dual ponytails were hitting boom drops everywhere and had New Day on their way to a win. That all changed when King Barrett delivered a bullhammer from the outside which led to a brogue kick from Sheamus for the 1, 2, 3.
After the match League of Nations jumped on the mic to talk some smack about how "no three men can beat us" etc etc, this led to Shawn Michaels, Mick Foley AND Steve Austin coming to the ring and swiftly opening up a can of whoop ass. Stunners and beers were everywhere.
2.5 out of 5 for the tag match
4 out of 5 for the post match event
Brock Lesnar v Dean Ambrose - Street Fight
Lesnar and Ambrose delivered exactly what we all expected, a bruising, brutal affair with Ambrose now a permanent resident of suplex city. The Lunatic Fringe was on the wrong end of over a dozen suplexes from The Beast, it wasn't completely one way traffic though as Ambrose took Lesnar to task with a host of chair and kendo stick shots.
If the match was given another 5-10 minutes it would have been alot more impactful, it almost felt like they were told to finish up as the finish saw Lesnar hit an F5 onto a pile of steel chairs.
3.5 out of 5
Becky Lynch v Sasha Banks v Charlotte (c) - Women's Championship
Now I'd be lying if I didn't admit I had a bit of bias towards Sasha Banks, she is certainly the boss and someone I'd gladly work for (read that as you will). It's great to see WWE taking their women more seriously in 2016, gone is the butterfly styled Divas Championship, now in its place is the Womens Championship. 3/4 of the Four Horsewomen put on a barn burner of a fight and it was the match of the night for me. The three combatants dialled it up for 16 minutes, delivering spot after spot at an extremely fast pace, transitioning pins into submissions and vice versa. This match was night and day compared to the earlier womens bout.
The two high points I'd like to mention is the Sasha Banks frog splash and the moonsault to the floor that Charlotte delivered. The ending saw Charlotte make Becky tap with Banks unable to break it up as Ric Flair held her back from the outside. The story between these three certain doesn't end here, do we see Bailey make her roster debut tomorrow on RAW? Time will tell...
4.1 out of 5
The Undertaker v Shane McMahon - Hell in A Cell
I thought there would end up being some form of screw job taking place during this match, possibly Vince aligning with Shane or another superstar coming in and costing the Deadman a victory. Unfortunately that wasn't the case and Shane O-Mac went down swinging (or elbow dropping). The match itself was okay, playing out the David v Goliath story with Undertaker dominating for much of it.
Brawling and submissions were frequent with hells gate being countered into sharpshooter by Shane (not overly believable but hey what do I know). The intensity picked up when Shane cut the locks on the cell only for Taker to then tackle him through the wall, it looked like Shane might have copped a concussion as he hit the announce table fairly hard. More shots were exchanged with Shane getting the upperhand via a couple of toolbox shots to the head of Taker, the second shot allowed Shane enough time to climb the cell and attempt a 30ft elbow drop; Taker rolls out the way and Shane takes the biggest bump of Wrestlemania 32.
3 out of 5
Andre the Giant Memorial Battle Royal
The fabled toilet break match, was what you would come to expect from a battle royal, a host of jobbers, a few surprise entrants (DDP, Tatanka and SHAQ!!) and Kane and The Big Show clearing house. What you wouldn't expect is seeing Baron Corbin winning. Great debut for the big man from NxT.
2 out of 5
Rock Promo & Rock v Erick Rowan
So this segment was the definition of filler, The Great One comes out with the Dallas Cowboys cheerleaders, plays with a flamethrower, panders to the crowd while spitting a generic Rock promo.
My hopes were high when the Wyatt's music hit, a Rock beatdown would have done wonders for Bray and co, but alas it wasn't meant to be. Instead we got a 6 second victory to Rock over Rowan (ouch). Bray and Braun then entered the ring to try lay the smack down, instead none other than John Cena ran in to even up the numbers and help further bury the Wyatts (double ouch).
2 out of 5
Roman Reigns v Triple H (c) - Heavyweight Championship
Opening with a scene you would see in a Mad Max film or a Slipknot film clip Stephanie McMahon leads off a hate spitting speech aimed at generating additional heat for her and Triple H, she's still one of the best heat magnets in the WWE. Reigns entrance was met with some of the loudest boos I've heard in quite some time, creative have hurt Reigns with their ho hum booking and tonight capped it all off. It really is annoying as hell listening to fans boo and hate just to get on the trendy bandwagon, Roman really isn't that bad a superstar. Funnily enough the only real pop Reigns received was when he speared Stephanie McMahon.
The match itself was a slow, methodical affair, very similar to Triple H v Orton in 2009, a match which suffered from crowd disinterest and an overly technical showing light on action. The entire time I was secretly hoping for a swerve, ultimately a Reigns heel turn would have helped the match and also given him a clear direction, this force fed Cena 2.0 isn't helping the Roman Empire and he seems too far good to remain a face. Instead no swerve, no run in from Rollins or Ambrose.
The match ended with Reigns ducking a sledgehammer shot from Triple H and hitting a spear after also lander 2 superman punches.
3.2 out of 5
Overall WM32 was a solid outing, a few brilliant bouts but overall the WWE failed to live up to the biggest event in sports entertainment. Alot of the finishes were questionable, not necessarily bad but not what the majority of the IWC have been demanding. There isn't many story lines to lock into moving forward over the next several months, hopefully RAW will right a few of those wrongs.
Final PPV Rating: 3 out of 5
*all photos taken from WWE.com